Uutiset
Markku Pölönen entertained and touched the audience with his stories!
05.03.2019 09:40
On Saturday 23.2. Kino Iglu showed director Markku Pölönen's latest work Oma maa ("Our Own Land"). The movie is a depiction of the post-war generation's struggle to rebuild the country and life on the ruins of the war. After all, it was rumoured in the frontline that men returning from war would all get "a land lot of their own". The movie depicts the efforts of Anni, used to easy life, and shot-up Veikko to build their own home and fields in this kind of a "Veikko Vennamonian" lot, that soldiers and Karelian refugees could buy with loaned money after the war.
Italians like to say "the bed is a poor man's opera" and it was just that to cash-strapped Finns after the war. Oma maa is also the love story of it's main characters. Guest presenter Markku Pölönen avasi elokuvaa and it's making with his humoristic but also touching anecdotes.
Pölönen had wanted unknown actors for his movie, because "Putous characters" would have been unrealistic for kankeamaan kantoja ja laying house foundations in the wild. Also the decision to choose Oona Airola for the female lead was clear all along for her "Helena Kara-like" acting skills and the fact that that bshe was the only Finnish actress that can ride a horse without a saddle.
Pölönen told that during the shooting phase fortune smiled, when the date of the 33-day shooting was delayed from July to August. In July it rained all the time and at the time of the shooting, it was sunny in North Karelia. Thus it's no wonder that luck has also secured the movie the popularity of spectators. Oma maa has been seen by nearly 200,000 Finns already, and this mark was possibly passed in Kino Iglu.
There were 178 spectators, and 51 brownies were sold.
Markku Pölönen
Spring season was fired up with skiing and movies from local directors!
05.02.2019 07:56
Kino Iglu's spring season of 2019 began with Tiikeri and Tyhjiö by directors living in Karkkila.
Tiikeri ("Tiger") is a short movie that, according to director and writer Mikko Myllylahti, demolishes and reshapes "the idyllic image of Finland". After all, the movie is a rather tragicomical depiction of the complex coexistence of one Finnish family, tied into an overhand knot by blackmailing with violence and regret, and side effects of excessive alcohol use. The lifebuoy of the all too Finnish anxiety is the new young generation, that in the form of fursonas tries to get rid of the twisted images of being a wife or a man.
Aleksi Salmenperä's movie Tyhjiö ("Vacuum") is nominated for five Jussi awards, and that's no wonder sice it's both a sharp and joyful depiction of the struggle of an artist couple in the painful symbiosis of career and family life. Author Eero, impressively portrayed by Tommi Korpela, just can't get his novel written. This problem gets an unexpected solution from a succesful colleague. Pihla (outstanding Laura Birn) is an actress on the brink of an international breakthrough, but an unexpected child and the author-husband acting in a weasel-like way bring their own hurdles to the process of creating a career, as if it wasn't already painful enough.
Tyhjiö was made with a budget of slightly more than nothing and with the help of volunteers, which is visible as freshness and forms a convincing entirety that holds up, despite the patchwork-like making. The guest presenter actor Tommi Korpela thinks that making a movie without the pressure a large systeem generates was liberating and artistically satisfying. At times he didn't even remember he was making a movie during the years-long process.
Director Salmenperä told he wanted to make the movie to easen the pain caused by the cancellation of another movie planned to be made the traditional way. Salmenperä got top actors for Tyhjiö, which proves the director is respected by movie professionals. The director's personal experiences from the joy and pain of film-making give thir own substance to the humour and realism of the movie.
Of the show's guests, Korpela and Salmenperä went cross-country skiing in Toivike, and the making it to the presentation was close due to getting lost in the forests of Karkkila. The chairman of "skiing Kino Iglu", Mika Lätti offered coffee and brownies to his "movie family" to celebrate his birthday.
Kino Iglu's partner Kinotour also showed the movie Onneli, Anneli and nukutuskello to childern.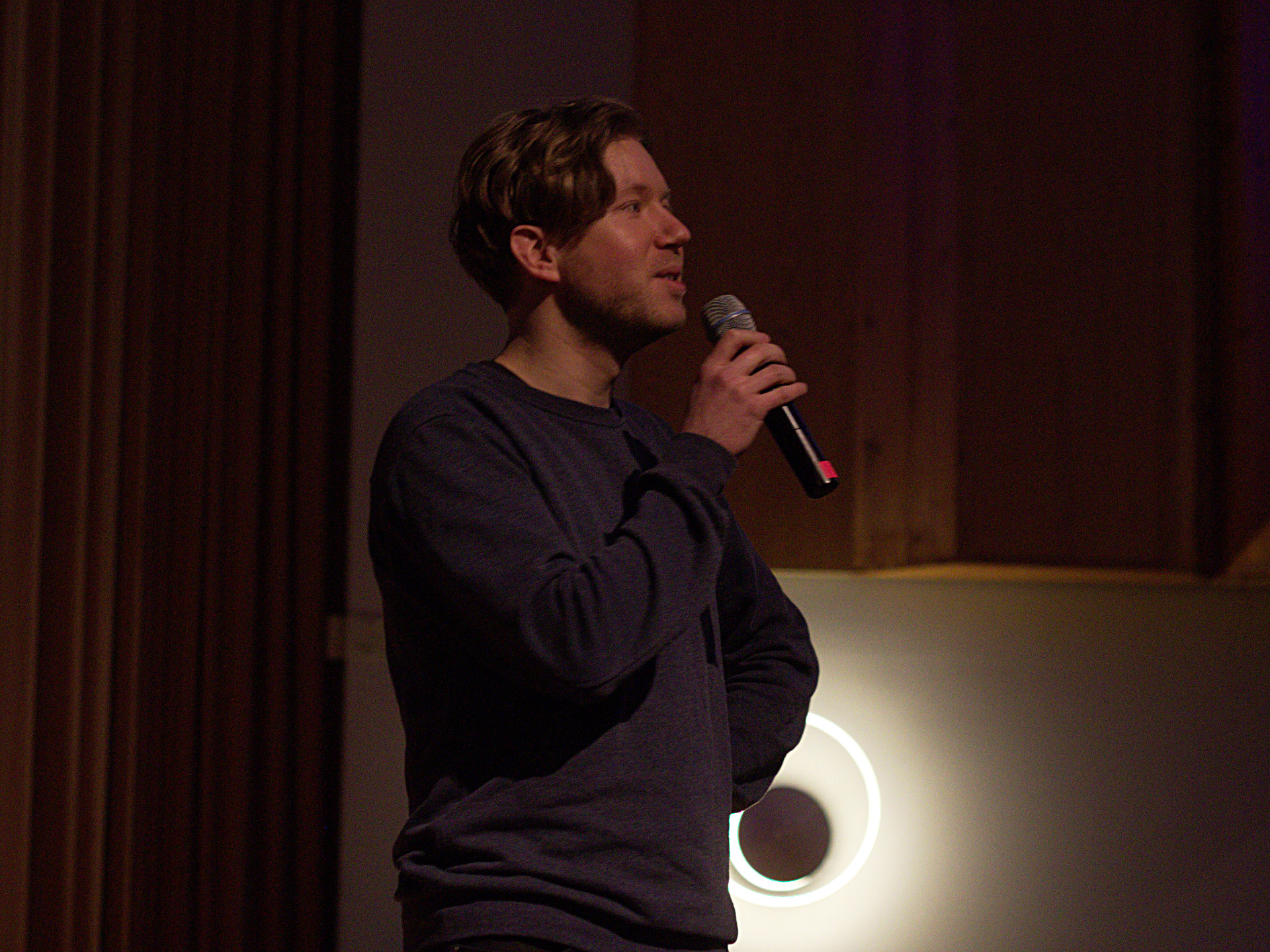 Mikko Myllylahti
Tommi Korpela and Aleksi Salmenperä
Kino Iglu's programme for spring 2019 released
29.11.2018 13:11
Spring 2019 in Kino Iglu
26 January Tyhjiö ( Aleksi Salmenperä ) + Tiikeri ( Mikko Myllylahti )

Tyhjiö ("Vacuum")
The writing career of Eero ( Tommi Korpela ) is on decay and the script for a new novel refuses to appear onpaper. Pihla ( Laura Birn ) is an actress about to make her international breakthrough. Both artists focus on their careers and can't think about each other, not in their relationship or in life.
Eero drifts into an extraordinary adventure while trying to save his literary career, while Pihla tries to combine acting and unexpected motherhood. The mental struggle of the couple is set in the landscapes of Inari, Havanna and Hollywood.
Tyhjiö, a film project directed by Aleksi Salmenperä living In Karkkila, was made almost entirely with the help of volunteers. The stars nof the movie are Laura Birn, Tommi Korpela, Hannu-Pekka Björkman, Matleena Kuusniemi, Minna Haapkylä, Kaija Pakarinen, Kari Heiskanen and Pihla Viitala. Running time 97 minutes. Ages 12 and over.
The movie will be presented by Aleksi Salmenperä and some members of the production team.

Tiikeri ("Tiger")
The short movie of Mikko Myllylahti, also a resident of Karkkila, Tiikeri premiered in 2018 in Cannes as apart of Semaine de la critique's program. Myllylahti was the second writer of succesful movie The Happiest Day in the Life of Olli Mäki, so the return to the red carpets of Cannes was natural. The movie runs for 10 minutes.
Mikko Myllylahti presents his own movie.
The movies are shown with modern format in co-operation with Kinotour. Tickets 10 euros.
23 February Oma maa ("Our Own Land" Markku Pölönen)
Anni, used to secure life, falls in love with Veikko, wounded in the Finnish Continuation War. Anni leaves everything behind and embarks to make a farm in Northern Carelia their new home. After a romantic beginning, her love for shot-up Veikko is put to the test.
"My latest movie, this Oma maa is a kind of a commission. It's frames are a seven-year period from the end of the war to the year of Helsinki Olympics, 1952, a time of work and dreams; people shook off the horrors of war. It was tough time, but also the time of fond memories: "Make us a movie out of it!" I have been encouraged decade after decade. Now I have done it." - Markku Pölönen
The 2018 movies main cast includes Oona Airola, Konsta Laakso, Antti Virmavirta and Hannu-Pekka Björkman. Running time 108 minutes. Ages 7 and over.
Director Markku Pölönen presents the movie. The movie is shown with modern format in co-operation with Kinotour. Tickets 10 euros.
23 March Los Olvidados (Luis Bunuel)
Celebrated in Cannes in 1959, Los Olvidados tells the story of two boys from the slums of Mexico City. Senior and more immoral Jaibo oppresses the younger and more innocent Pedro with tragic consequences.
The tragedy of Bunuel's movie is in the culture that has to reject it's own values. In this culture that makes the boys poke fun at a legless beggar. The fight for existence in the jungle, with which a modern person can also identify, materializes in the movie. Often money determines the value of people, and empathy and humanity aren't given the value they deserve.
Running time 85 minutes. Shown from 35 mm film. Tickets 5 euros.
27 April The Good, the Bad and the Ugly (Sergio Leone)
This has been requested! The show is held in co-operation with Suomen länkkäriseura (the Finnish Western Association).
The magnum opus of Sergio Leone's spaghetti westerns, starring Clint Eastwood as the invincible "Man with No Name". He joins forces with two gunslingers ( Lee van Cleef and Eli Wallach ). The co-operation of three outlaws is not easy. The war around them also presents it's own challenges. Anyway, the goal is to find a stolen gold treasure.
The movie is shown from 35 mm film. Running time 181 minutes. Ages 16 and over. Tickets 5 euros.
Thank you for participating our festival!
26.10.2018 10:41
Kino Iglu organised a film festival on 1.-13.10. in co-operation with Karkkila's youth and cultural services, library and community college. Festival was funded by Finnish Cultural Foundation's Uusimaa fund. Kino Iglu thanks viewers, organisers, performers and co-operatives.
From gallery you can view photos and videos from the festival.
Kino Iglu continues screenings in January. The programme will be published soon.
Katariina Lillqvist at the opening of her Radio Dolores exhibition at Karkkila library 1.10.
Pre-paid tickets are available from Aito Kulta (Karkkila)
17.08.2018 11:06
Pre-paid tickets are available from Aito Kulta (Karkkila)
Kino Iglu's film festival 1 - 13 October 2018
20.06.2018 08:59
Kino Iglu arranges a film festival in Karkkila between 1 and 13 October. The event, held for the second time, offers an exhibition by internationally succesful animator Katariina Lillqvist and a story workshop in Karkkila library. Lillqvist's part of the festival is based on her animation and radio play Radio Dolores and is aimed at school students in spirit of the library's youth movie week and experience trip.
The exhibition and animations are also available for public viewing.
The movies of the festival are concentrated on Saturday 13 October in Karkkilasali where, in addition to Katariina Lillqvist's series of animations, Seppo Rustanius's Punaiset esiliinat ( Red Aprons ) and Yakov Protazanov's silent film Aelita: Queen of Mars will be shown. The silent film will be accompanied by Finnish band Cleaning Women. The band is known for playing it's music with electrically amplified household appliances and for it's live accompaniment in Midnight Sun Film Festival, Mexico City and Tromssa film festival.
As is the tradition, there are guest presenters in the film shows and surprise shows are also possible.
The festival is held in co-operation with the youth services of Karkkila, the library and Adult Education Center. The festival has received support from Finnish Cultural Foundation's Uusimaa fund.
The schedule of the festival is revealed in August.
Festival poster
Finnish Cultural Foundation granted stipend of 5000 euros to Kino Iglu
08.06.2018 11:47
Finnish Cultural Foundation's Uusimaa regional fund granted stipend of 5000 euros to film club Kino Iglu. Thanks! We will be organising film festival in Karkkila at 1.10.-13.10.2018.
Kino Iglu's spring season concluded with Calamari Union
07.06.2018 09:16
Kino Iglu's spring season of 2018 ended on Saturday 19 May with Aki Kaurismäki's Calamari Union. Together with Kino Iglu's brownie sales manager, academic Aki Kaurismäki, the movie was presented by Mato Valtonen and Sakari Kuosmanen, who appear in the movie. In addition to them a few Franks and 140 spectators ventured, despite ruthless heat, into the Eldorado of movie, Karkkila.
The presenter trio prepared the audience for the movie by speakin about it's birth and it's significance to their own lives. 1985 definitely was a long time ago and now, after three decades, Calamari Union has pointed out it's significance and effectiveness. A good example were the Franks - Martela, Mäntymäki, Ranta and Leppänen - who attended the Q&A session after the movie and who had pondered the deepest questions of self because of Calamari Union, changing their names to Frank in the spirit of the movie. Probably nobody expected this when the movie was made.
In addition to the presentation and the movie, the show included Sakari Kuosmanen's and Mato Valtonen's musical performances. Rakkauden haudalla, Pariisi and Suuret setelit, as well as the musician's joint performance of Kuka mitä häh? sensitized the audience and put them in a good mood.

Kino Iglu's resumes it's operation in autumn.
Presenters and Franks
Aki Kaurismäki, Sakari Kuosmanen and Mato Valtonen present the final movie of Kino Iglu's spring season!
04.05.2018 10:12
Take out your sunglasses, because Kino Iglu's spring season ends dazzlingly with Aki Kaurismäki's movie Calamari Union (1985). The movie is a story about sixteen men, all named Frank except for one Pekka, who attempt to get from Kallio to Eira. Many of them fall on the way, but will anyone eventually get there? Or is Eira just an elusive dream, like Ithaca was for Odysseus? In any case the Franks wear sunglasses.
The movie, shown from film, will be presented by, as is the tradition in Kino Iglu's spring seasons, director Aki Kaurismäki and two of the Franks, Sakari Kuosmanen and Mato Valtonen. During the year Aki Kaurismäki has achieved fame with his newest movie The Other Side of Hope. Academic Kaurismäki has also been awarded the famed Medalla de Oro for his life's work. Other film makers previously given the award include legends such as Luis Bunuel, Manoel de Oliveira and Michael Haneke. The award is presented by Circulo de Bellas Artes de Madrid, which was established in 1880 and is one of the most respected private art organizations in Spain. Sakari Kuosmanen and Mato Valtonen are known for their various roles in Aki Kaurismäki's movies and as singers and musicians in the bands Leningrad Cowboys and Sleepy Sleepers.
Kino Iglu's show on Saturday 19 May at 4:00 p.m. in Karkkilasali (
Anttilankatu 2-4
). Tickets 9€.
Calamari Union
Suomen hauskin mies shown in Kino Iglu
25.04.2018 10:37
Kino Iglu showed Heikki Kujanpää's fresh movie Suomen hauskin mies on Saturday 21 April. In addition to Kujanpää, who is from Karkkila, the presentation of the movie was done by the lead actor Martti Suosalo, an elite actor remembered from many unforgettable roles. The second scriptwriter Mikko Reitala was also scheduled to be present, but he had to cancel his visit.
In their presentation Kujanpää and Suosalo stressed particularly the historical background of the movie. Set in the year 1918 and in a prisoner of war camp for Red Guards during the Finnish Civil War, Suomen hauskin mies leans strongly on actual events, but the movie itself is fiction. Thus it's nobody's biography or a depiction of any specific historical event but a story assembled from several sources.
Suomen hauskin mies, which filled 280 seats in Karkkilasali, is so far the most successful show of the spring season, which is one movie away from it's conclusion, and that's no wonder. as the movie's assistant director Jouni Mutanen has said about Kujanpää's movie: "Already when I read the script, Suomen hauskin mies was such a great experience that for a couple of days my mind was totally racing. And it just gained more speed when during the summer I followed the millimetre-precise work of the director, actors and art department, as the spirit was blown into the text. Suomen hauskin mies is carved on the same stone as other everlasting bullseyes.".
The final movie of the season, Calamari Union, will be shown on 19 May at 4:00 p.m. in Karkkilasali. The movie will be presented by Aki Kaurismäki, Mato Valtonen and Sakari Kuosmanen.
Martti Suosalo and Heikki Kujanpää

0 - 1 - 2 - 3 -